Minersville Area Skate Park
500 Line St, Minersville, PA 17954-1614
The Minersville skate park committee contacted Arment Concrete when their frustrations grew trying to raise funds for a full scale park at a cost of $100,000. We were able to work with their funding and build a small (2,200 sq ft) park for under $30,000. In recent years, we have returned to complete several additions; rails, ledges, bowl corner and embankments as additional funds have been raised. These additions continue to improve the park and hold interest for the users.
Original Estimate of Construction Cost: $25,000
Final Cost of Construction Cost: $25,000
Reference: Bobbie Domlesky (minersvilleareaskatepark@yahoo.com) Secretary Minersville Skate Park Committee
Parksburg Point Skatepark Design
Parksburg Point, PA
The Parksburg Point is a faith based youth center that offers constructive programs to the youth in the surrounding area. Arment Concrete was approached by the staff to help design and construct a facility that would attract skaters and offer a healthy alternative to what the streets may have in store. This design incorporates several different styles of terrain, while appealing and engaging to many different levels of skill.
Original estimate of construction cost: $195,000
Final Cost: To be built
Reference: Dwayne Walton
Ramp Evan
Upper Darby, PA
This 480 square foot mini ramp (3.5' high, 16' wide, 7' transitions) looks like modern art in the wilderness. We stained the concrete to blend in with the natural surrounding and placed ceramic tile under the coping for skate board nostalgia sake. With limited fill options, the cantilever decks provide a mass alternative while giving users the needed vantage point.
Original estimate of construction cost: $7,000
Final Cost: $7,000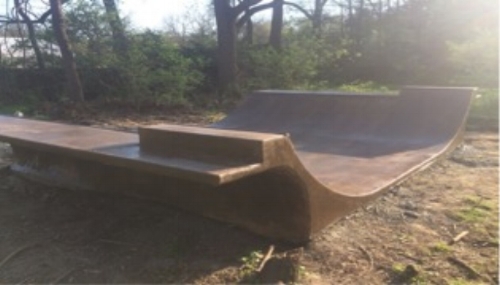 Granahan Playground
6500 Callowhill St, Philadelphia PA 19151
Working again with the Philadelphia Parks and Recreation department, Arment Concrete was contracted to demo an existing hockey rink which was no longer useable and facilitate the construction of the 4,000 square foot skate facility. Urban development group Skate Philly aided in construction management and provided a design by Jesse Clayton. This space has an intermediate flow with a granite ledge salvaged from the world renowned, now defunct Love Park.
Original estimate of construction cost: $85,000
Final Cost: $85,000
Reference: Jesse Rendel jtrendell@gmail.com
Denver Memorial Skate Park
801 Main Street, Denver PA 17517
A progressive project that started over 20 years ago, the current Denver skate park is a mix of fabricated ramps and concrete. As the original surface decayed, concrete was poured in its place with modern concrete skate terrain to match. As more funds were raised the process continued. Today we see the park ½ completed as fund raisers take place at the park which shows our progress and use of funds.
Original estimate of construction cost: $6,000 (phase one) $12,000 (phase two)
Final Cost: To be determined
Steelton Borough Municipal Skate Park
699 3rd Aly, Harrisburg PA, 17113
Arment Concrete was able to successfully design and build Dauphin County's first public skate park with the generous involvement of the community. Public design meetings were held at the local skate shop, support given by the local authorities and funds raised by the local government through tourism grants. Built in the area of sport courts no longer useable, this 12,000 square foot skate park is spacious with general flow ability, mixing plaza and transitional style skating. The Steelton community support was paramount in showcasing the positive affect that a skate park can have in an urban environment.
Original Cost Estimate: $150,000
Construction Cost: $150,000